Blog
Sotogrande, den 10. Mai 2016
RC44 World Championship im Segeln
Vom 11. bis 15. Mai
Kommen Sie in den Hafen von Sotogrande und genießen Sie diese einzigartige Erfahrung.
Sotogrande, the 09.10.16
The Clubhouse La Reserva de Sotogrande has been refurbished into a world-class club house with an exceptional restaurant to match.
L'Olive is fast gaining a reputation as one of Andalucia's best dining experiences. The newly refurbished restaurant in the clubhouse at La Reserva de Sotogrande is open from breakfast to dinner for members and non-members.
Gastronomic excellence is provided under the watchful stewardship of Parisian, Olivier Claude de Paepe and L'Olive's head chef, Cristina Gutierrez Bergue. Their continually evolving menu showcases Cristina's considerable talent and offers some of the finest Andalucian and European cuisine found in this part of southwest Spain.
The changing menu makes a play on seasonal specialties. Lunchtimes are geared towards the golfing community where relaxed dining is the order du jour, whilst dinner provides a sophisticated, refined yet laid-back setting. Specialties include red tuna tartare with flying fish and AOVE caviar, lobster salad with chicory juice and avocado, pear fiocchi with ricotta and truffle to accompany the fantastic puddings such as cardamom and ginger pannacotta.
The notably sophisticated ambience at L'Olive has been created by Parisian architecture studio, Des Sources, which enjoys a comfortably contemporary interior coupled with extensive outdoor dining terraces.
L'Olive opening hours:
Breakfast from 8am
Lunch 12 noon to 19.00h
Dinner from 20.00h to 23.30h
L'Olive at La Reserva can be contacted on (+34) 956 785252.
Sotogrande, the 21.10.2016
Real Estate development
Kronos Homes held the official presentation and the laying of the foundation stone of the building project 'The Edge', a residential complex that includes the construction of seventy-two villas and luxury apartments in the area of ​​Arroyo Vaquero, Estepona. The meeting was attended by celebrities and entrepreneurs across the Costa del Sol and Sotogrande, besides the mayor of Estepona, José María García Urbano, who stressed the importance of such investments for growth and development in the area.
The Edge by Kronos Homes is a unique project based on a luxury development situated on the beach, very close to Puerto Deportivo de Sotogrande, in a unique location. This complex has a total of seventy apartments and two villas on the beach 2, 3 and 4 bedrooms, equipped with exclusive materials and top quality. The complex will also have green areas with swimming pools and a solarium and 'Health Club' for enjoyment and health care; all it surrounded by a privileged environment such as this corner on the Costa del Sol.
In the development of the event he had the opportunity to intervene the project architect, Rafael de la Hoz, who explained this promotion is "a modern and environmentally friendly residential complex with very low density."
December 2016
Christmas in Sotogrande: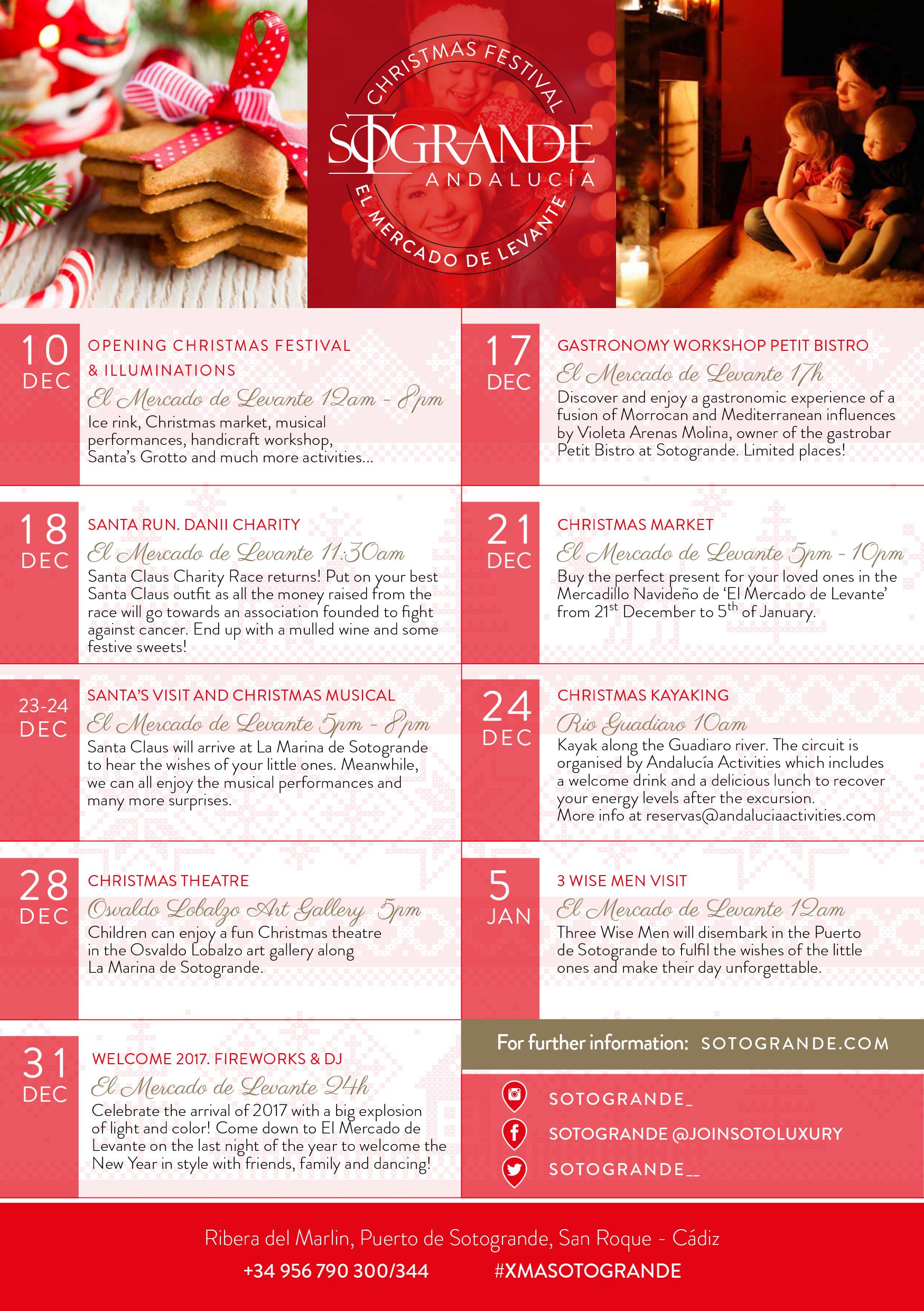 Sotogrande 4th of january
This year again, 2 Bundesliga teams from Germany are coming for training in our beautiful, sunny Sotogrande.
January 2018
the new project in La Reserva!